I hand-cut the badge from 1.6mm brass sheet and prepare the edges to get that 'worn' feel. When the badge is finally polished, the face of the badge is engraved to emphasise some of the letters.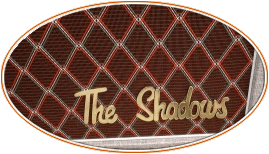 At this point a decision had to be made about the method used to fix the badge to the amp.
To retain the clean lines of the badge, I decided not to drill through the face for fixing with screws but to attach solid brass pins to the rear of the badge for a concealed fixing. Once this was done, the badge was given a coat of clear lacquer.
At last I had my Shadows badge! But what about the other guitarists throughout the world who, like me, wanted a badge but could not locate one? In a conversation with Bruce Welch, he mentioned that he had been trying for 5 years to obtain one without success.
So I decided to produce more of The Shadows badges and make them available to Shads Fans throughout the world. I made two badges for Bruce Welch, one of which he proudly displays on the front of his amp. Both Phil Kelly and Alan Jones also have them fitted to their amps. These were first seen at Shadowmania 2002.